A LOCAL BUILDER WITH NATIONAL REACH
---
Ban Lee Hin Group has been serving the clients build for over FOUR DECADE. Since its inception in 1974, we have grown from a small local iron works into one of the most capable and trusted ONE-STOP Construction Solution providers of construction services. As one of the nation's most established companies, we have a long-term perspective that is invaluable in the construction industry and related industries.
We pride ourselves on being a local builder with a national reach. Our footmark are spread across offices and jobsites throughout the Nation & Asian countries. Though our presence today is larger than ever before, we are deeply embedded in the construction industry where we build and live.
But, more than our extensive portfolio, what truly sets us apart from our competition is our people. Their dedication to providing world-class service to our clients, resolve for delivering extraordinary work, capacity for innovation and problem solving, and unwavering commitment to improving the construction industry we serve, not only make Ban Lee Hin Group a great place to work but a company with which our clients want to work.
Since its inception in 1974, we have been transforming to become one of the leading companies in the field of construction in Malaysia. Having made a mark in the Construction Industry in the Malaysia for four decades, Ban Lee Hin Group fully understands and commits to the market where quality, efficiency and safety are of the essence. Consequently, we are even becoming stronger and proactive and considerably prepared to grasp the opportunities that lay ahead in the business.
I'm never bored of seeing the structures that we have built or the Ban Lee Hin logo on a building that is under construction. These structures are symbols of the hard work, professionalism, and dedication of each and every member of the Ban Lee Hin group's team and the pride I feel when I see them will never fade.
We will continue to reach further to the needs of the customers through value attention, focusing on those areas and requirements of the customers that will add value to their operation, performing services that will permeate valuable technology and workmanship and applying safety and quality procedures that will value the important detail of every project.
Furthermore, we involve ourselves to become a model of company built on the mutual cooperation system with our associate companies as well as the settlement of mutual beneficial culture. We practice the social activities of contribution to support such association and communities around the community. Most importantly, we stretch our hands out to various social activities over the community as we commit to our social responsibilities as a global company to create a brighter future for the people of the community.
I would like to take this opportunity to pledge that me and the Ban Lee Hin group's team will endeavor to devote our full efforts to exceed our customers' expectations & fully satisfy their needs and requirements.
Dato' Tony Looi Chee Hong MBA, PhD(hc)
Chairman/CEO of Ban Lee Hin Group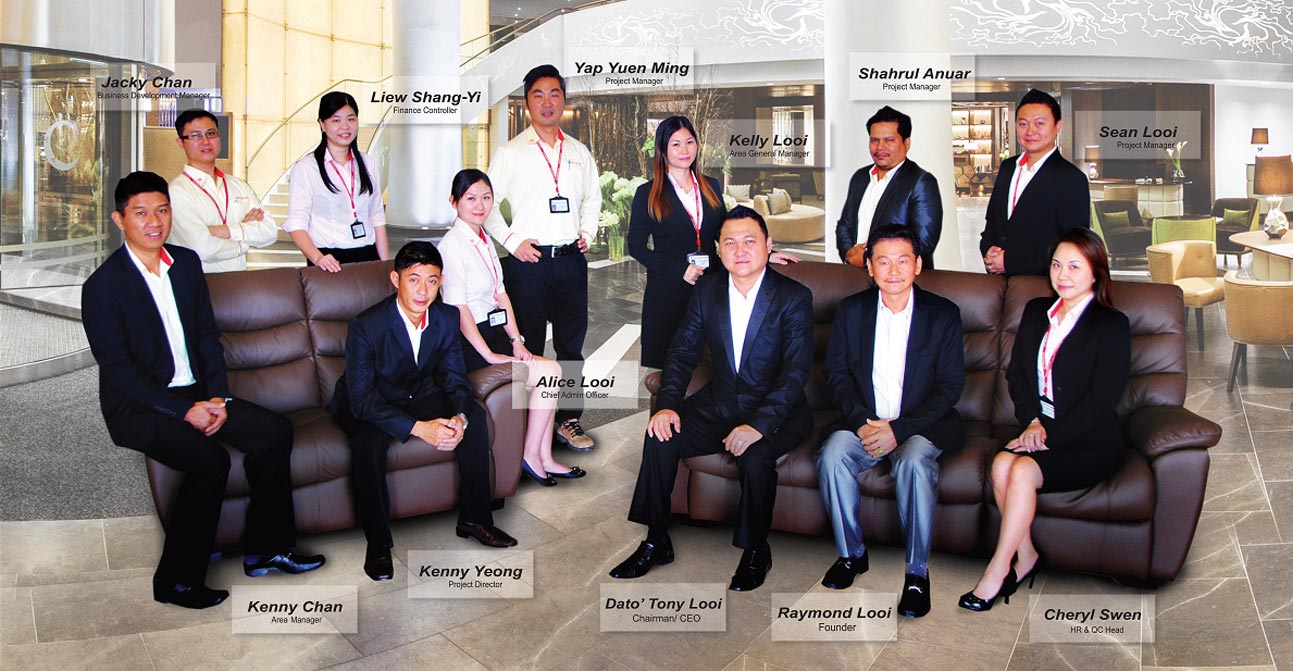 We are firm in our pursuit of excellence. Possibly the highest testimony to our promise to quality work and professional service is the recognition we have garnered from our peers. Ban Lee Hin projects have been honored with more than 30 local and national awards for quality, leadership, corporate social responsibility, and safety, including:
Core Values
---
We stay true to the same philosophies on which our company was founded over a forty years ago:
providing excellence professional service to our clients, putting safety first, generating opportunities for our people, conveying exceptional work, adopting innovation, acting with integrity, and strengthening our communities. These creeds unite us as one company, and guide every aspect of our business.
Customer
---
Our customer are the reasons for us to do well.
Find out how we have streamlined our company's operations and engineering approaches with one unified goal: to satisfy our customer, both in terms of quality and their project requirements.
Professional
---
World-Class excellence in every project, in every delivery.
We have performed works for many global names that truly represent successes in their very own industry, and as such, it comes as no surprise that with such impressive list of customers, we deliver only world-class excellence.
Quality
---
Unparalleled Quality commitment.
Allow us to introduce to you how, with close to four decades of working experiences with the best names in the world has allowed us to devise fool-proof quality assurance plans which you can truly benefit from.
Employee
---
Our knowledge, our team, our assets.
While others pride themselves with mere "employees being asset", we take this idea two steps further: we empower our employees, we draw on their experiences and cleverly distributing these knowledge internally and also externally, ultimately benefiting our clients.
Safety
---
Safety Policy.
The BAN LEE HIN ENGINEERING & CONSTRUCTION SDN BHD acknowledges its duties under the Occupational Safety & Health Rules & Regulation, to provide and to promote a healthy and safe working environment for members of its staff, visitors and contractors, as far as is reasonably practicable. To ensure compliance and enforcement of the rules and regulations, the BAN LEE HIN ENGINEERING & CONSTRUCTION SDN BHD abides by its Safety & Health Policy, which states that:
To give full commitment to maintain a safety and health work environment on job site.
Active participation in safety campaign and training to achieve a high level of safety and health awareness.
Compliance with all relevant Government Acts and its legislative regulations and other statutory requirements, rules & regulations, standards and procedures as laid down by the relevant Government Bodies and Statutory Boards.
To Strive for "Zero Accident Record".
Inform their immediate superior or Safety Committee members of any situations that, within the limits of their competence, they consider could give rise to serious or imminent danger or are shortcomings in safety and health arrangements.
Take reasonable care for their own safety and health and that of others who may be affected by their activities.
To prevent injury and ill health.
To ensure continual improvement in OHS management and performance.
THE MORE THINGS CHANGE, THE MORE THEY STAY THE SAME